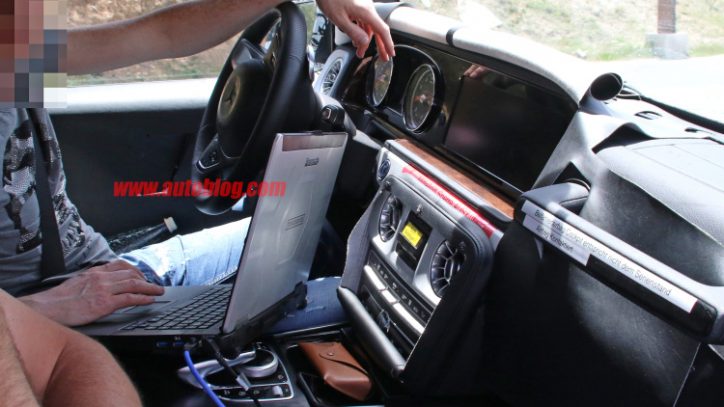 We already know that there will be a next-generation Mercedes-Benz G-Class based on several spy shots of the vehicle that surfaced a few weeks ago. As the norm within the company, the iconic sport utility vehicle is expected to receive a Mercedes-AMG G-Class version.
Don't get your hopes up with the new G-Class exterior as the vehicle will still follow the classic boxy recipe that has been its major selling point to customers. The same is true with its AMG variant. However, new spy photos of the AMG G-Class taken by Autoblog indicate that there will be significant updates in the auto's cockpit.
The interior design of the AMG G-Class appears to carry many elements found in the new E-Class and S-Class. The instrument cluster features a major update. The device that stands out the most is the big LCD screen embedded in the dashboard of the vehicle. The air conditioning vents have been enhanced too.
Noticeably missing in the upcoming high-performance SUV is its old shift lever, which seems to have been replaced by a steering column mounted stalk. The removed part also makes way for the updated infotainment controls.
The spy pictures here only focus on the driver's side of the cockpit as well as the adjoined instrument cluster. However, the next G-Class is expected to be more spacious than its predecessor basing from the increased wheelbase hinted by the auto's spy shots. There should be a lot of room to stretch your legs even in the rear passenger seats.
The post A Peek Inside the New Mercedes-AMG G-Class appeared first on BenzInsider.com - A Mercedes-Benz Fan Blog.
【Top 10 Malaysia & Singapore Most Beautiful Girls】Have you follow?