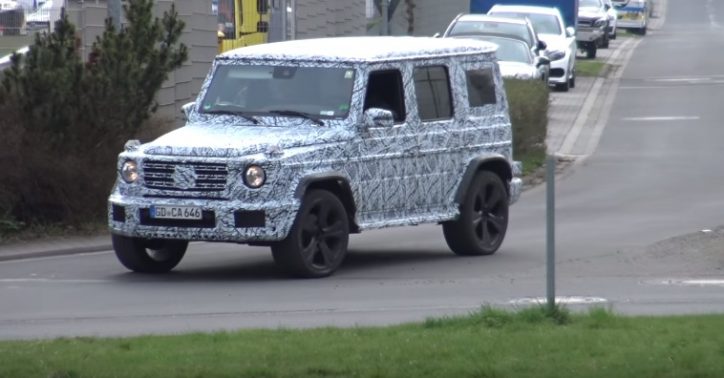 A new Mercedes-Benz G-Class was spotted recently. A video of it also surfaced online, which gives us an idea of what to expect from it.
Here are the top 3 predictions for the Mercedes-Benz G-Class based on a report:
1. Design
The heavy camo of the prototype G-Class indicate that it will undergo major changes in its exterior. According to sources, the upcoming version of the vehicle will be a next-generation model. The spy video says the auto will bear a 2019 model year but we believe a 2018 badge is more plausible.
The next-gen G-Class appears to have retained the iconic boxy look of its predecessor. The bulges in its surfaces hint that the same body lines of the G-Class will be carried over to the new model. However, the upcoming vehicle seems wider and more spacious than the existing version.
Overall, there are no significant changes in the design of the G-Class. That actually makes a lot of sense since the major selling point of the SUV is its retro charm, which still shows a lot of elements found in the original 1979 model.
2. Engine
The next G-Class will likely carry the new 4.0-liter biturbo V8 engine of Mercedes. The unit will provide the SUV with a little boost in power as well as more favorable rates in fuel-economy and emission. The 6.0-liter biturbo V12 will possibly be retained for the high-performance variant of the auto.
3. Unveiling
The new G-Class will probably shed off its wraps later this year. The possible venue of its unveiling is at the Frankfurt Motor Show scheduled in September. The sale of the vehicle will commence in 2018.
Video
Check out the spy video of the new Mercedes-Benz G-Class prototype below:
The post Top 3 Things to Expect From the Next-Gen Mercedes-Benz G-Class appeared first on BenzInsider.com - A Mercedes-Benz Fan Blog.
【Top 10 Malaysia & Singapore Most Beautiful Girls】Have you follow?