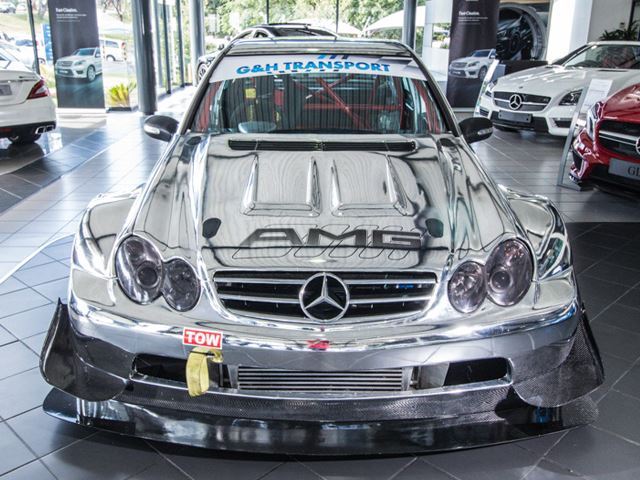 DTM cars like the late Mercedes-Benz SLS AMG GT3 and the current Mercedes-AMG GT3 are only reserved for customer racing teams. With that, it is not for everyone. However, one customer just would not take "No" for an answer. So, he transformed his 2004 Mercedes-Benz C55 AMG into a DTM-inspired car.
According to Carbuzz, Thouca Mechanicos thought about building a 550-hp Mercedes-Benz with DTM specs, but people took it as ridiculous. That did not hold him back though. The guy chose his Mercedes-Benz C55 AMG to embody his vision.
The major challenge was giving a boost to the car's engine that can only produce a maximum of 360 hp. He turned to Kleemann for a solution. With the tuner's supercharger and a lot of labor later, the car finally got the coveted 550 hp output.
Then, the C55 AMG was given huge racing wheels to complement its increased power. Of course, the arches of the vehicle had to be extended in order to house the large wheels.
To complete the transformation, the owner availed the products and services of Collaro Designs. The result was an entirely new look for the auto.
Outside, the C55 AMG received huge hood, side aprons, bumpers, rear diffuser and rear wing. It was given a mirror finish wrap as well as racing decals.
Furthermore, the interior of the C55 AMG was entirely reworked. It now has a rollcage plus new steering wheel, pedals and bespoke upholstery.
The source said the owner of the C55 AMG was not yet done. He is planning to give the same DTM-inspired treatment to his Mercedes-Benz C63 AMG.
DTM-Inspired 2004 Mercedes-Benz C55 AMG Photos
Check out the photos of the customized Mercedes-Benz C55 AMG in the gallery below:
The post 2004 Mercedes-Benz C55 AMG Transformed Into DTM-Inspired Racecar appeared first on BenzInsider.com - A Mercedes-Benz Fan Blog.
【Top 10 Malaysia & Singapore Most Beautiful Girls】Have you follow?