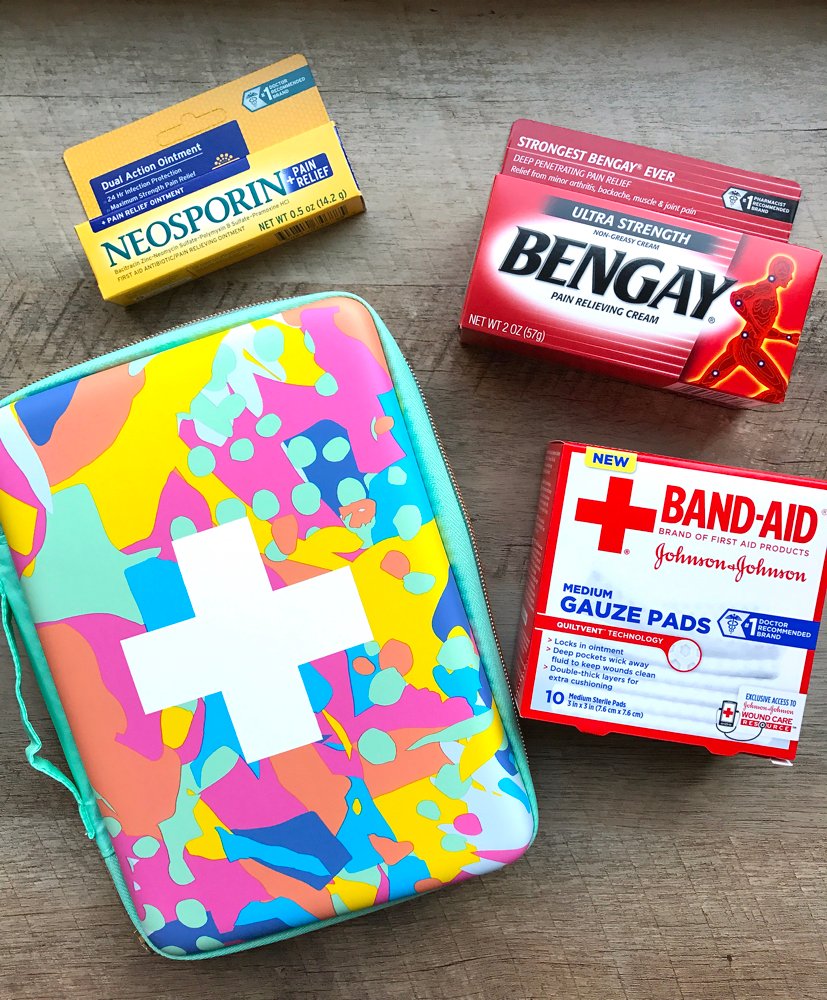 This shop has been compensated by Collective Bias, Inc. and its advertiser. All opinions are mine alone. #CollectiveBias
I recently got super into camping after a 10 year-long hiatus.
I started keeping a camping box fully packed and ready-to-go for the weekend, so I'm not scrambling around the house trying to find all the flashlights and other camping gear.
If you're thinking about getting back into camping or are just trying to figure out what to pack, here are my 5 Summer Camping Essentials that I plan to bring along on all my trips:
1) Cooler Full of Prepped Healthy Meals + Snacks
My days of living off canned food and hot dogs while camping are no more! I bring meal prepping on the road with me and I like to have big cooler packed full of ready-to-cook meals. I do all the chopping in advance, so I'm not doing at the campground.
Think fruit salad, veggie sticks, hummus, nuts, dried fruit, kombucha, homemade breakfast burrito, pre-made green smoothies. Your diet doesn't have to take a vacation just because you do. Get creative!
2) Marshmallow Roasting Sticks + S'mores Kit
What's a camping trip without s'mores for dessert? I keep a pair of telescopic rotating marshmallow roasting sticks, a chocolate bar, marshmallows and graham crackers in my camping box.
3) Bug Spray + Citronella Candles
I can't live without my bug spray. I get really allergic to mosquito bites and my skin gets swollen quickly. So I always have citronella candles, an anti-mosquito bracelet and bug spray in my camping box because nothing else ruins a weekend away then scratching at bug bites all day and night.
4) BBQ Lighter + Fire Starter
On windy and rainy days, starting a fire can seem impossible – especially after a long drive to get to your campground. I keep a dedicated BBQ lighter in our camping box along with a couple packs of fire starter to make things go smoothly.
5) First Aid Kit
Building a first aid kit is something I've been meaning to do for a long time and like many of these random tasks – they rarely ever get done, even though I have the best of intentions.
I recently prioritized putting together my own first aid kit as we have a summer full of road trips and big adventures planned.
I keep a tube of BENGAY® Ultra Strength Cream in my kit to help relieve minor aches and pains from a day of hiking and setting up camp! It soothes and eases my sore spots so I can get a good night's rest. Neosporin and a few Band-Aid Brand First Aid Medium Gauze Pads are also a must for minor cuts and scrapes.
I also got one of these exclusive Oh Joy! first aid pouches for free when you buy any 3 participating Johnson & Johnson items at Target. So if you're thinking of building your own first aid kit – this cute pouch is definitely a motivator!
To create your own first aid kit, look for the endcap at Target like in the photo above. You can also build your own kit at Target online.
Happy Trails!
The post 5 Summer Camping Essentials appeared first on This Beautiful Day.
【Top 10 Malaysia & Singapore Most Beautiful Girls】Have you follow?