Valtteri Bottas won the 2017 Austrian GP from pole position, holding off a late-race surge from Ferrari's Sebastian Vettel to ensure that Mercedes would win the race this time. Vettel's second-place finish, however, means that he pulls a bit farther away from Lewis Hamilton. The Brit could only finish in fourth place after a five-place grid penalty was slapped onto him.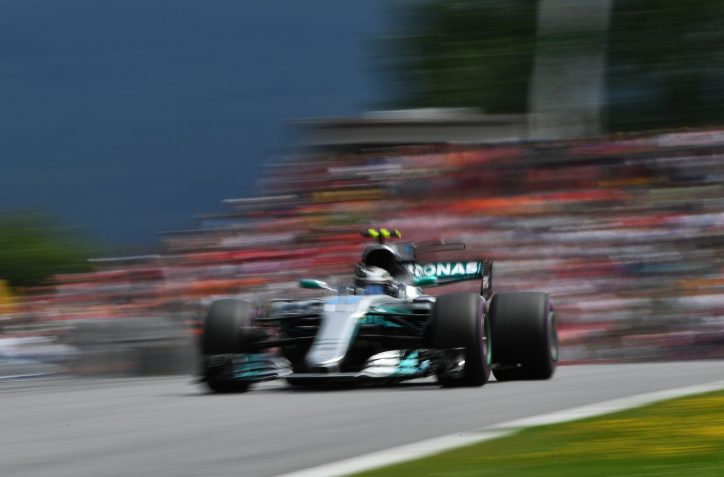 The win nets Vettel six more points over Hamilton in the drivers' standings. Vettel's lead is now 20 points; he has 171 points to Hamilton's 151. However, with Bottas' second career win, he is now within striking distance of his Mercedes teammate thanks to a total of 136 points so far.
Hamilton's grid penalty was for an unscheduled gearbox change.
The British driver could not get past Daniel Ricciardo's Red Bull, which placed third. Ricciardo now has a total of 107 points this season.
Following Hamilton, the other Ferrari driven by Kimi Raikkonen went fifth. The Haas team had its best finisher of the season as Romain Grosjean went sixth. The two Force India drivers went next, with Sergio Perez in seventh and Esteban Ocon eighth. The Williams team rounds out the Austrian GP top 10: Felipe Massa in ninth place and Lance Stroll in tenth.
Vettel struggled early but had considerable momentum later on. He said he felt better during the race's second half, and could've seriously challenged Bottas if he had another lap or so to work with. The Ferrari driver has certainly proven that his pace can hang with either Mercedes.
Hamilton can look forward to a home race next weekend, as the F1 calendar turns to the British Grand Prix. Hamilton will look to bounce back then. Surely, however, Bottas and Vettel will get in his way again. But it's been all Lewis for the past three years at Silverstone, so count on Lewis to work hard to retain his home streak.
Meanwhile, his teammate will surely be basking in he light of this Austrian GP win.
The post Bottas wins Austrian GP but Hamilton fails to make podium appeared first on BenzInsider.com - A Mercedes-Benz Fan Blog.
【Top 10 Malaysia & Singapore Most Beautiful Girls】Have you follow?