Lewis Hamilton won the 2017 British Grand Prix for a record-tying fifth time as Ferrari met with bad luck at the end of the race, helping the Mercedes driver close in considerably on Sebastian Vettel's lead in the points.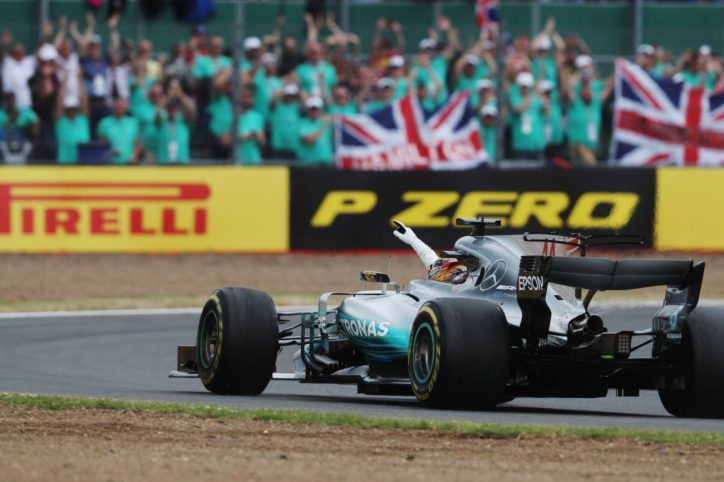 Hamilton is now only 1 point behind Vettel, thanks mainly to a race in which he went unchallenged, and also in part to a front left tyre issue that held back the Ferrari driver with only a few laps remaining. Kimi Raikkonen suffered the same in the last lap. What looked like two Ferraris splitting the Mercedes cars ended up in a 1-2 finish for the Silver Arrows. So now the tally stands: Vettel has 177 points in the season and is hanging on to a flimsy lead. Hamilton is right there at 176 points. Valtteri Bottas is trying to get into the mix with his 154 points.
With his fifth career win at the British GP, Hamilton matches the record held by Jim Clark and Alain Prost. This is also his fourth straight win at Silverstone, so getting the record next year is something to watch out for.
Hamilton always gets a great lift thanks to his home crowd, and this has been especially true in recent years as the home crowd seems more supportive and appreciative for the F1 star. He crowd-surfed his way to delaying the post-GP press conference, much to (what appeared like) the dismay of the other two podium finishers.
After the 2017 British Grand Prix, Mercedes extends its lead over Ferrari in the constructors' championship race. The team now has 330 points to Ferrari's 275. Red Bull Racing is in third at a relatively distant 174 points.
Red Bull Racing had an interesting race, getting the fourth and fifth places. Max Verstappen's overtake on Vettel helped Hamilton consolidate his race lead and put Vettel's focus elsewhere. Meanwhile, Daniel Ricciardo drove from P19 on the grid to a fifth-place finish in an inspiring run.
The post Hamilton wins 2017 British Grand Prix to tie record appeared first on BenzInsider.com - A Mercedes-Benz Fan Blog.
【Top 10 Malaysia & Singapore Most Beautiful Girls】Have you follow?