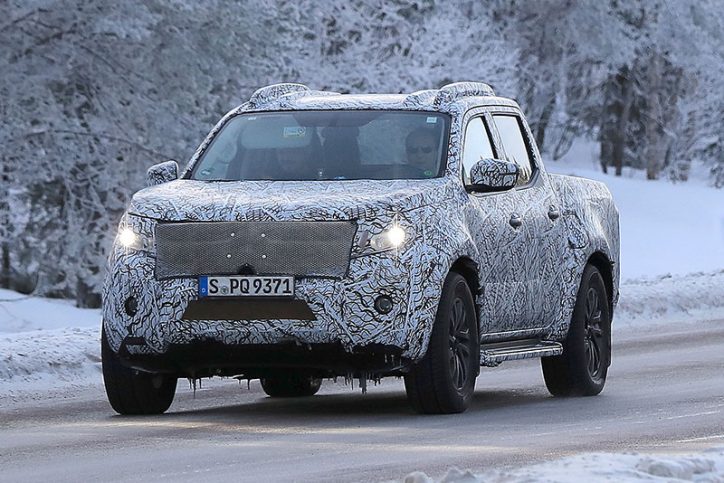 Mercedes-Benz did not release specific details about the July 18 debut of its midsize pickup truck, the Mercedes-Benz X-Class. It did release a teaser video that shows the new pickup in production form, marking the first time that anyone outside Mercedes saw the truck.
Earlier, we only knew about the concept vehicles of the X-Class and the general theme of the truck, which incidentally, won't be sold in the United States, according to Mercedes boss Dieter Zetsche.
The teaser video showed darkened hints of the pickup's styling, which is slightly more reserved than the two X-Class concepts back in 2016. There are chrome trims on the bumper and grille, the roof rails, side window trims, running boards, rear bumper, and bed-mounted sports bar. We can also expect the front end to have LED headlights, taillights, and daytime running lights.
What we know so far is that the Mercedes-Benz X-Class is a midsize pickup truck that is based on the platform used on the Nissan Navara, but obtains its power from Mercedes' transmissions, engines, and a 4Matic 4WD system. The X-Class maybe similar in platform with the Navara, but it's different styling-wise, especially when it comes to the suspension system designed by Mercedes engineers.
The X-Class will compete directly with the Toyota HiLux, the Ford Ranger, and the Volkswagen Amarock.
Mercedes did not reveal the engine specifications for the X-Class, but it's expected to have four- and six-cylinder turbodiesel and gasoline engines with an AMG variant with sportier looks to arrive in the future.
The post Reminder: Mercedes-Benz X-Class Will Debut On July 18 appeared first on BenzInsider.com - A Mercedes-Benz Fan Blog.
【Top 10 Malaysia & Singapore Most Beautiful Girls】Have you follow?