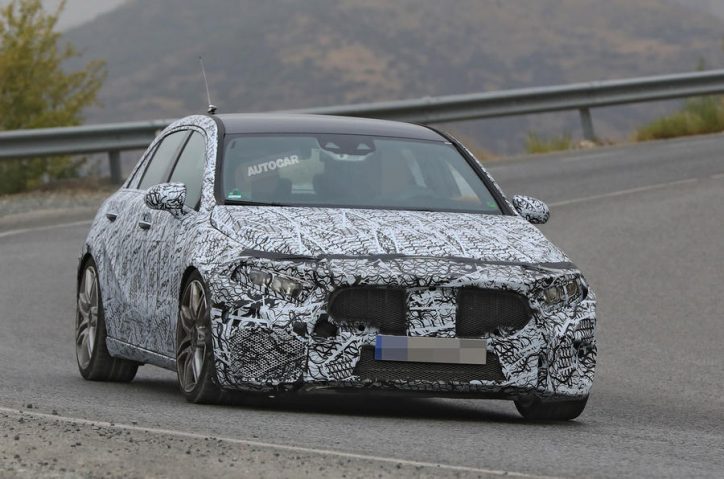 The next-generation of the Mercedes-AMG A45 is coming out in 2019. The model has been dubbed as "Predator" by company insiders.
Based from the spy shots and information we have gathered from Autocar, here are the features of the Mercedes-AMG A45 Predator:
1. Exterior
Why is it called the "Predator"?
The moniker given by insiders to the upcoming Mercedes-AMG A45 had something to do with its new fascia. As we have seen in the Concept A Saloon unveiled at the 2017 Shanghai Auto Show, the next-gen A-Class will have a set of vertical radiator grille, sharper headlights, bumper with larger intakes and more prominent lip spoiler. The outline of the car's rear will also follow a sportier design with new bumper, taillights, tailpipes and diffuser.
2. Interior
Expect the same level of detailing found in the current offerings of AMG for its compact vehicles. Major improvements will come in the infotainment system of the hatchback though, which is highlighted by a dual digital screen layout.
3. Engine
When we encounter the name "AMG" the first thing that comes into the minds of the majority is "performance". That's because that's what has defined the name over the years since it started as a separate entity from Mercedes.
Although the official figures of the Mercedes-AMG A45 are not yet available, sources predict that the car will deliver at least 400 bhp output. The power is distributed to all four wheels of the five-door hatch. The report said that the next A45 will likely hit zero to 62 mph in just four seconds.
The post Top 3 Things About the Mercedes-AMG A45 Predator Coming in 2019 appeared first on BenzInsider.com - A Mercedes-Benz Fan Blog.
【Top 10 Malaysia & Singapore Most Beautiful Girls】Have you follow?