Lewis Hamilton achieved his first-ever career pole position at the Suzuka circuit, giving him an edge heading into the 2017 Japanese Grand Prix, where he expects another good battle with the Ferrari team.
Hamilton's Mercedes teammate Valtteri Bottas was actually second-fastest in qualifying, but he will be slapped with a five-place grid penalty. This bumps Ferrari's Sebastian Vettel up to the front row.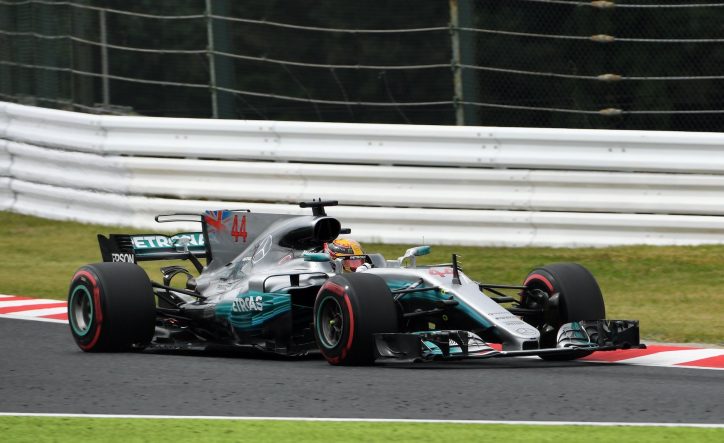 The Red Bulls qualified next, followed by Kimi Raikkonen in the other Ferrari. Raikkonen, however, will also be given a five-place gearbox penalty.
It was a record-breaking qualifying session for Hamilton, who shattered the track record of 1:28.95 held previously by Michael Schumacher. He had already been close to that mark in Q1. In Q2, the team switched to supersoft tyres and allowed Hamilton to set a faster pace and subsequently break the record. He ended up with a best of 1:27.319 to win pole.
Being able to score his first career pole in this event, coupled with breaking the track record? That's really something else. Hamilton looks untouchable right now, even with Vettel right there in the front row with him.
Hamilton spoke about how the Ferrari cars will be quick come race time, but Mercedes has been dominant again recently. It will take every ounce of speed and effort that Ferrari can muster if they want to keep Hamilton from pulling away early.
The drivers remarked how great it was to drive in Suzuka in the 2017 cars. "Mind-blowing," Hamilton described it. "It's insane the speeds, the way you are able to throw the car around, like the craziest rollercoaster ride."
We'll see if that will hold true once the race gets underway tomorrow. If Hamilton can secure the win, he will be able to extend his lead over Vettel in the championship race. Hamilton is currently up by 34 points.
The post Hamilton takes first career pole in Suzuka appeared first on BenzInsider.com - A Mercedes-Benz Fan Blog.
【Top 10 Malaysia & Singapore Most Beautiful Girls】Have you follow?