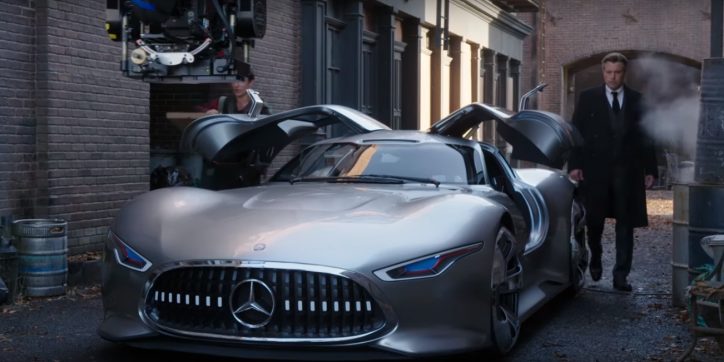 The Mercedes-Benz AMG Vision Gran Turismo is only a concept car, so it is not available for customers. However, Bruce Wayne always gets what he wants. In the new Justice League movie trailer, the alter ego of Batman was seen driving an experimental model of the vehicle.
The Mercedes-Benz AMG Vision Gran Turismo was initially made for the Gran Turismo 6 racing video game. Then a 1:1 scale model of the auto was created and unveiled at the opening of the Mercedes-Benz Research & Development Center in Sunnyvale, California.
Recently, it was revealed that a working version of the auto, complete with its interior elements, was specially made for the new Justice League live-action movie. The car was seen in a promotional video being driven by the billionaire Bruce Wayne played by Ben Affleck.
According to producer Charles Roven, the driveable version of the Mercedes-Benz AMG Vision Gran Turismo had its proportions increased by ten percent. This was to accommodate the 6'4 frame of Affleck.
Other Mercedes-Benz units will be making appearances in the film like the G-Class, Sprinter, and a V12-engined Mercedes-AMG GT Roadster. Another is a one-of-a-kind edition of the Mercedes-Benz E-Class Cabriolet. The prototype was being used by Wonderwoman's alter ego Diana, portrayed by Gal Gadot, during the shooting of the movie in London.
The much-awaited superhero film, Justice League, is scheduled to be released by Warner Bros. in November 17, 2017. Aside from Affleck and Gadot, the movie will feature Jason Momoa as Arthur Curry/Aquaman, Ezra Miller as Barry Allen/Flash, and Henry Cavill as Clark Kent/Superman.
Check out the Mercedes-Benz cars at the upcoming Justice League movie in the video below:
The post Mercedes-Benz AMG Vision Gran Turismo Featured in Justice League Movie appeared first on BenzInsider.com - A Mercedes-Benz Fan Blog.
【Top 10 Malaysia & Singapore Most Beautiful Girls】Have you follow?