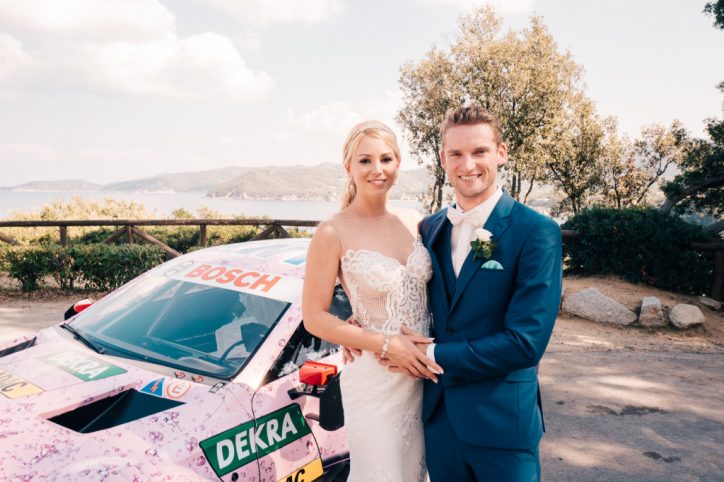 Maro Engel definitely loves what he does for a living. His passion for racing is such that he even used a Mercedes-AMG C63 DTM as his wedding car.
In an interview with Engel he revealed that he was offered by the Mercedes DTM team to use the car during the big event with his new wife Steffi. He said he had to consult her first when the idea popped out as the vehicle was not made to accommodate luxurious features and it lacked proper air conditioning.
He stated that his lady immediately agreed as the opportunity would present them with a truly unforgettable moment. It turns out that the couple actually met each other at a DTM event.
Engel recalled that having the Mercedes-AMG C63 DTM in their wedding was an amazing and incredible experience for them. He said that they had a 30-minute drive with the car from the church to the hotel. Of course, the two sure made the most out of their ride as they drove through the narrow road going to a small fishing village onto the coast road.
The former DTM driver went on to say that they only wore wide grins on their faces during the trip. The loud engine noise of the car prevented them from talking to each other all throughout the journey though. Nevertheless, he pointed out that it was a unique experience and definitely a "knock-out".
Engel added that the cockpit of the race car was definitely hot, but they didn't mind it as they enjoyed their time in it. Lastly, he said that they lined the seats with large, white tablecloths just for the occasion.
Photos
Check out the sweet photos of Mr. and Mrs. Engel with the Mercedes-AMG C63 DTM below:
The post The Mercedes-AMG C63 DTM was the Wedding Car of Maro Engel appeared first on BenzInsider.com - A Mercedes-Benz Fan Blog.
【Top 10 Malaysia & Singapore Most Beautiful Girls】Have you follow?