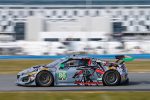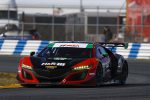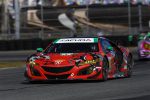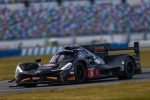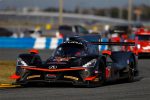 Jan 7, 2018 – DAYTONA BEACH, Fla.
"Roar before the 24" three-day open test marks final runs prior to season-opening Rolex 24 at Daytona International Speedway
Team Penske Acura ARX-05 prototypes run fourth and fifth in qualifying session to determine Rolex 24 pit and garage allocation
Michael Shank Racing secures fourth, Honda of America Racing Team fifth in GTD qualifying for Acura NSX GT3s
An expanded Acura Motorsports effort for the 2018 IMSA WeatherTech SportsCar Championship made its public debut this weekend at Daytona International Speedway, with a pair of Acura ARX-05 prototypes and three Acura NSX GT3s featuring in final pre-season preparations at the "Roar Before the 24" open test.
Acura Team Penske and the Honda of America Racing Team (HART) joined the returning, 2017 race-winning Michael Shank Racing organization as the combined Acura Motorsports program completed three days of testing, capped by a qualifying session to determine pit and garage allocations for the season-opening Rolex 24.
Acura Team Penske
With the new Acura ARX-05 prototypes still clad in "carbon fiber black" testing colors, former series champion Dane Cameron led the way for the Penske organization with a fourth-place run in the 15-minute qualifying session on Sunday. Cameron will be paired for the season in the #6 Acura ARX-05 prototype with former Indy 500 champion Juan Pablo Montoya, with former IndyCar series champion Simon Pagenaud joining the lineup for the Rolex 24 and other long-distance events.
Driving the #7 Acura ARX-05, defending series champion Ricky Taylor posted the fifth-fastest lap in his qualifying run. Taylor will be joined for the season in the cockpit by three-time Indy winner Helio Castroneves, with IndyCar race winner Graham Rahal joining the driver lineup for the long-distance rounds of the series.
Acura NSX GT3 Teams
Michael Shank Racing returned with its pair of NSX GT3s to start the new season on a positive note, with Alvaro Parente running fourth fastest in the GTD class to lead the Acura effort. He will be joined in the #86 Acura at the Rolex 24 by 2017 two-time race winner Katherine Legge, rising star Trent Hindman and NASCAR race winner A.J. Allmendinger.
Another Acura veteran, Ryan Eversley, took the Honda associate-led #69 HART NSX GT3 to the fifth-fastest GTD time during their 15-minute qualifying session. HART plans a partial season of GTD competition in 2018, with Honda associate Chad Gilsinger joining Eversley behind the wheel. For the Rolex 24, the two will be joined by Sean Rayhall and John Falb, who also partnered in 2017 to win a pair of LMP3 races in the European Le Mans Series.
Driving the #93 Michael Shank Racing Acura, Lawson Aschenbach finished the brief qualifying session in 12th. The multi-time sports car racing champion will be joined by veteran sports car and NASCAR driver Justin Marks for the season; with race winners Come Ledogar and Mario Farnbacher coming on board for the Rolex 24.
Next
This week's test at Daytona International Speedway completes official preparations for the January 27-28 Rolex 24, the twice-around-the-clock endurance contest that kicks off the 2018 IMSA WeatherTech SportsCar Championship.
Video recaps from this weekend's Acura WeatherTech SportsCar Championship test at Daytona International Speedway are being posted on the "Honda Racing/HPD" YouTube channel. Produced by the Carolinas Production Group, the video packages can be found in the 2018 HPD Trackside Video Playlist at: https://www.youtube.com/HondaRacingHPDTV.
Quotes
Art St. Cyr (President, Honda Performance Development) on this week's test: "It feels good be back on track, and officially welcoming our two new teams, Acura Team Penske and the Honda of America Racing Team, who join with the returning Michael Shank Racing to make up the Acura Motorsports program in the 2018 WeatherTech Championship. This is the culmination of a five-year plan to return the Acura brand to pinnacle motorsports highlighted by our return to prototype competition with Team Penske and the new Acura ARX-05. In GTD, the racing-winning Michael Shank Racing effort is joined in our Acura NSX GT3 ranks by H.A.R.T., made up primarily of associates from Honda R&D Americas and Honda of America Manufacturing. We had a good three days of testing. Obviously, this being the beginning of the season, we're still working out some bugs, but we're looking forward to the Rolex 24 in just a few weeks."
Dane Cameron (driver, #6 Acura Team Penske ARX-05) fifth in Roar Before the 24 qualifying: "I think everything went great. We ran through our test plan and that's important. The race weekend goes by pretty fast, so the Roar is the best time to get your prep work done, run the night [practice] laps, all that kind of stuff. The Acura ARX-05 ran flawlessly, so I think everyone's in the groove now, working hard but having fun. There's always a little bit more [speed] to find, but I think we're in great shape for the race in a couple weeks' time. Acura Team Penske is the best in the business. I think we're ready to go."
Ricky Taylor (driver, #7 Acura Team Penske ARX-05) qualified sixth in prototype: "A fantastic weekend, I think. We really worked through a lot, and we made more and more gains every session. The biggest thing, I think, is we worked out so many 'new car bugs'. Everything was reliable through this weekend's test, and that gives us good confidence ahead of the '24'. I think we're well prepared."
Alvaro Parente (driver, #86 Michael Shank Racing Acura NSX GT3) qualified fourth in GTD: "I feel like this is a good start and we have had some really nice test days in preparation for the [Rolex] 24 with our Acura. All of the guys have been doing well and we have all been having a lot of fun. We will continue to keep working to make improvements. The main thing is getting the car as stable and quick as possible for the race."
Ryan Eversley (driver, #69 Honda of America Racing Team Acura NSX GT3) qualified fifth in GTD: "What a great test! Our HART NSX program didn't miss a beat, and we're now running in the top five on pace. We struggled with the setup at the start of the test, but the Mike Shank crew really helped us out and got us pointed in the right direction. That's the way it works in the HPD camp. We're one big family and I like that."
IMSA WeatherTech SportsCar Championship Roar Before the 24 Open Test
Circuit: Daytona International Speedway, Daytona Beach, FL
Weather: Partly sunny, cool, 52 degrees F
Prototype Qualifying:
POS
CAR NO
CLASS
CLASS POS
DRIVERS
TEAM/CAR/SPONSOR
1
31
P
1
Mike Conway
Felipe Nasr
Eric Curran
Stuart Middleton
Whelen Engineering Racing
Cadillac DPi
2
90
P
2
Tristan Vautier
Edward Cheever
Matt McMurry
Spirit of Daytona Racing
Cadillac DPi
3
5
P
3
Joao Barbosa
Filipe Albuquerque
Christian Fittipaldi
Mustang Sampling Racing
Cadillac DPi
4
10
P
4
Ryan Hunter-Reay
Jordan Taylor
Renger van Der Zande
Konica Minolta Cadillac DPi-V.R
Cadillac DPi
5
6
P
5
Simon Pagenaud
Juan Pablo Montoya
Dane Cameron
Team Penske
Acura DPi
6
7
P
6
Graham Rahal
Ricky Taylor
Helio Castroneves
Team Penske
Acura DPi
7
22
P
7
Nicolas Lapierre
Johannes van Overbeek
Luis Felipe Derani
Tequila Patron ESM
Nissan DPi
8
55
P
8
Jonathan Bomarito
Spencer Pigot
Harry Tincknell
Mazda Team Joest
Mazda DPi
9
78
P
9
Alex Brundle
Antonio Felix da Costa
Ferdinand Habsburg-Lothringen
Ho-Pin Tung
Jackie Chan DCR JOTA
ORECA LMP2
10
85
P
10
Robert Alon
Simon Trummer
Austin Cindric
Devlin DeFrancesco
JDC-Miller Motorsports
ORECA LMP2
GTD Qualifying:
POS
CAR NO
CLASS
CLASS POS
DRIVERS
TEAM/CAR/SPONSOR
29
11
GTD
1
Rik Breukers
Mirko Bortolotti
Rolf Ineichen
Franck Perera
GRT Grasser Racing Team
Lamborghini Huracan GT3
30
44
GTD
2
Andrew Davis
Markus Winkelhock
Andy Lally
John Potter
Magnus Racing
Audi R8 LMS GT3
31
58
GTD
3
Christina Nielsen
Mathieu Jaminet
Patrick Long
Robert Renauer
Wright Motorsports
Porsche 911 GT3 R
32
86
GTD
4
Katherine Legge
Alvaro Parente
Trent Hindman
AJ Allmendinger
Michael Shank Racing
Acura NSX GT3
33
69
GTD
5
John Falb
Ryan Eversley
Chad Gilsinger
Sean Rayhall
HART
Acura NSX GT3
34
15
GTD
6
Dominik Farnbacher
Jack Hawksworth
David Heinemeier Hansson
Scott Pruett
3GT Racing
Lexus RCF GT3
35
63
GTD
7
Gunnar Jeannette
Cooper MacNeil
Alessandro Balzan
Jeff Segal
Scuderia Corsa
Ferrari 488 GT3
36
29
GTD
8
Sheldon van der Linde
Christopher Mies
Jeffrey Schmidt
Kelvin van der Linde
Montaplast by Land Motorsport
Audi R8 LMS GT3
37
19
GTD
9
Christian Engelhart
Christopher Lenz
Max van Splunteren
Ezequiel Perez Companc
Louis Machiels
GRT Grasser Racing Team
Lamborghini Huracan GT3
38
82
GTD
10
Martin Fuentes
Miguel Molina
Santiago Creel
Ricardo Perez
Risi Competizione
Ferrari 488 GT3
39
33
GTD
11
Jeroen Bleekemolen
Luca Stolz
Ben Keating
Adam Christodoulou
Mercedes-AMG Team Riley Motorsports
Mercedes-AMG GT3
40
93
GTD
12
Mario Farnbacher
Justin Marks
Lawson Aschenbach
Côme Ledogar
Michael Shank Racing
Acura NSX GT3
[Source: Acura, Honda Racing via Twitter]
【Top 10 Malaysia & Singapore Most Beautiful Girls】Have you follow?